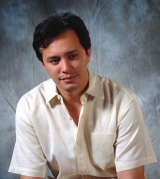 I do believe that it is wedding season again. Weddings weddings weddings all the way. Just received news in my inbox today that Eizal Yusof is getting married! No concrete news on this yet, as usual. About time I guess, Eizlan's getting old, if he doesn't get married soon, he'll turn into Jalaluddin Hassan *shiver*
Here's more bits of info I found out about this upcoming wedding. Remember, don't quote me on this.
* * * * * * *
Eizlan Yusof nak kawin…
Eizlan pilih gadis Sabah, dijangka nikah Julai ini
AKHIRNYA ketika usia Eizlan Yusof melewati 36 tahun, dia mengambil keputusan menamatkan zaman bujangnya dengan gadis Sabah yang khabarnya baru berusia 21 tahun. Selepas Zubir teropong, gadis bertuah yang bakal bertakhta di hati Eizlan itu, namanya V Shanty yang kini bertugas di sebuah firma seni bina terkenal di Kuala Lumpur.
V Shanty adalah gadis kacukan Melayu-Pakistan, muka meletup beb! Zubir dengar cerita lagi, Eizlan dan Shanty bakal disatukan di Sabah pada 7 Julai depan iaitu selepas enam bulan mereka berkenalan secara serius dan bercinta sakan. Khabarnya lagi, Eizlan mula melamar Shanty pada 7 Januari lalu.
Sekiranya apa yang Zubir teropong ini menjadi satu kenyataan, Eizlan-Shanty bakal makan nasi minyak, Zubir dan warga Bintang Popular ingin merakamkan ucapan Selamat Pengantin Baru kepada mereka berdua.
Dengar cerita lagi, Eizlan sudah mula jemput mulut kawan-kawan yang rapat dengannya untuk hadir ke majlis perkahwinannya nanti. Khabarnya antara yang sudah mendapat undangan mulut ke majlis persandingan Eizlan-Shanty ialah Datuk Shah Rezza dan beberapa wartawan hiburan popular dari majalah hiburan terkenal.
Zubir juga baru dapat tahu, Eizlan juga bakal mengundang Tengku Muda Pahang, Tengku Abdul Rahman Sultan Ahmad Shah dan isteri ke majlis perkahwinannya nanti. Tapi yang pasti, Zubir dan suku sakat di Bintang Popular belum lagi mendapat sebarang undangan mulut daripada Eizlan.
Pun begitu, sebagai kawan dan juga jiran Eizlan (Zubir menetap di kondominium yang sama dengan Eizlan), Zubir sentiasa mendoakan kebahagiaan Eizlan-Shanty. Mudah-mudahan perkahwinan mereka berkekalan hingga ke anak cucu, amin…
* * * * * * *
Pictures of the girl can be found at this site where i found the above info. I have a nice picture of her and her sister however am having problems uploading that. So perhaps some other time.
Cheers!
* * * * * * *
Update!
I finally can upload pictures so here's the picture of Eizlan's wife-to-be. SHe's the one wearing the headband. The other girl is her sister. (according to the email i received la). Very pretty, don't you think?